At TMT by Thunder Match, we are not only providing you the best deals in town,
but also protecting you purchases with most premium TMT protection plan.

The entire plan is designed to ensure your devices to be protected with extended warranty and more,
even when your warranty does not cover all.

TMT Protection Plan consist of TMT Care that brings you extended warranty
and TMT Insure that gets you covered more even when your device warranty does not.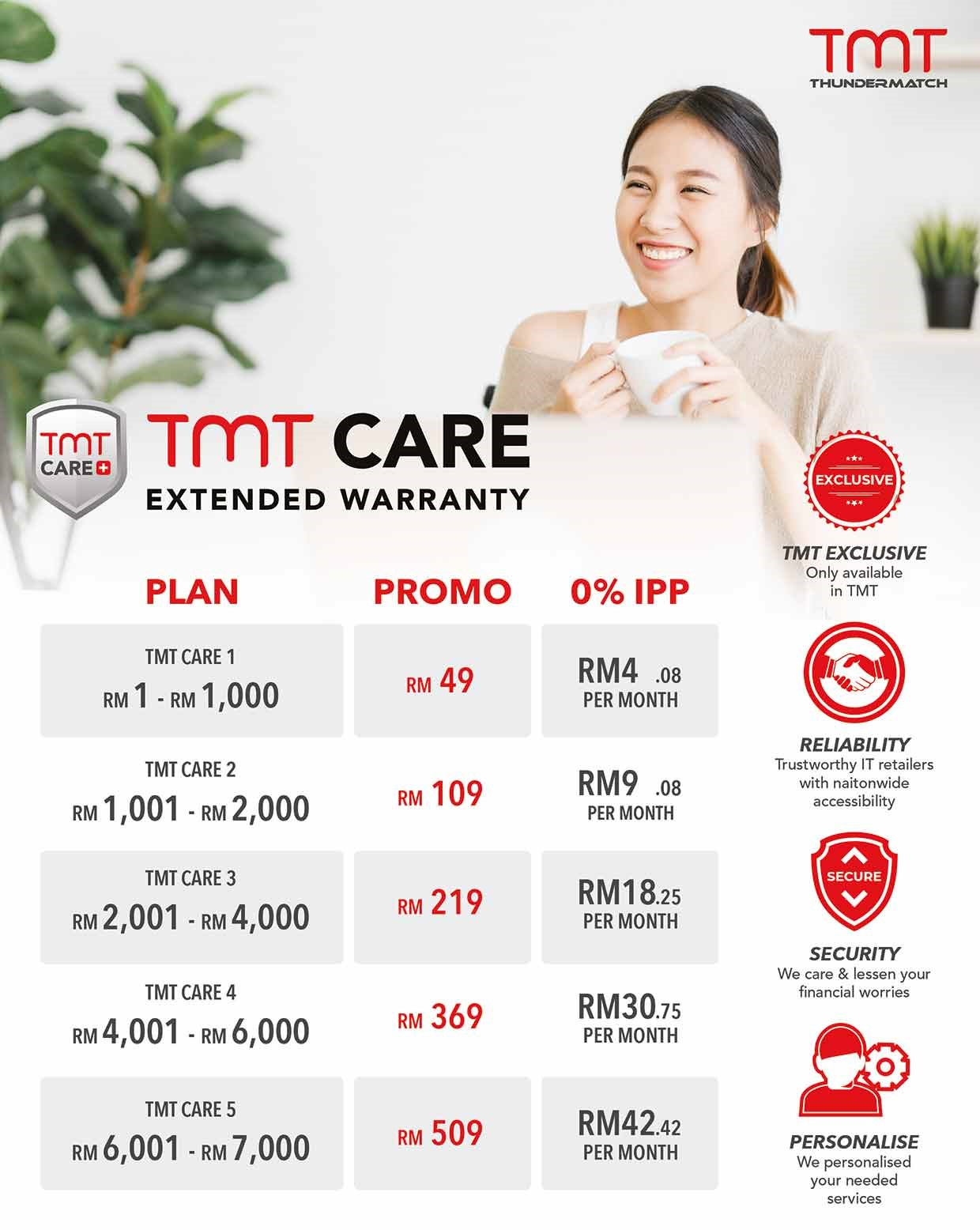 1. 1. What is TMT Care?
TMT Care is one of our heart-warming services, we provide extended warranty beyond the manufacturer's warranty. It is only available at TMT.
2. 2. What does TMT Care covers?
TMT Care usually covers manufacturing defects and hardware malfunctions. For example, faulty battery and faulty display , but does not cover damage from accidents and misuse.
3. 3. What are the services TMT Care provides?
We provide personalized diagnostician, repairing and replacement for the products you purchase from TMT stores.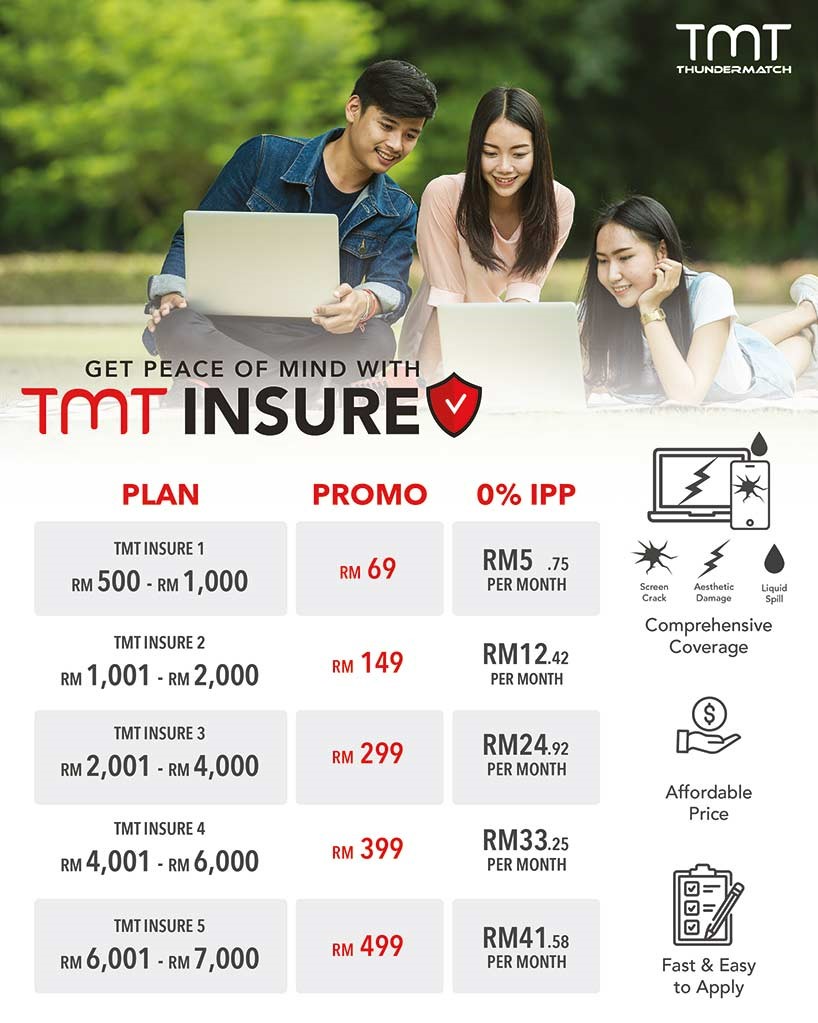 1. What is TMT Insure?

TMT Insure is the insurance provided by TMT to protect against the things that a manufacturer's warranty does not.





2. What does TMT Insure covers?

While warranty will cover you for mechanical breakdowns and faults, it's of no help if, you accidentally damage your device. Likewise, if you suffer the misfortune of losing your phone or, worse still, have it stolen, you'll be on your own.




- Covers the devices due to accidental damage. The claim description must be due to accidental damage caused by the client.

- The devices must be visibly broken and must be due to accidental damage by the client.

- It covers for repair and full (total loss of equipment).

-

In the event of total loss of device, a technician report is needed and devices is required to give back to the insurance company.

-

The coverage exclude in case of own damage due to fraudulent means.




3. What TMT Insure does not cover?

- Self inflicted damage to equipment devices.


- Loss or damage caused by any latent or mechanical defect, mechanical derangement, mechanical or electrical failures, breakage, depreciation, atmospheric conditions or any other gradually operating cause.

- Loss or damage caused by mechanical or electrical breakdown or wear and tear loss or damage caused by overloading or strain.

- Loss or damage arising from rust, mildew, moth, vermin or in connection with any process of cleaning, dyeing, repairing, restoring, renovating or dismantling.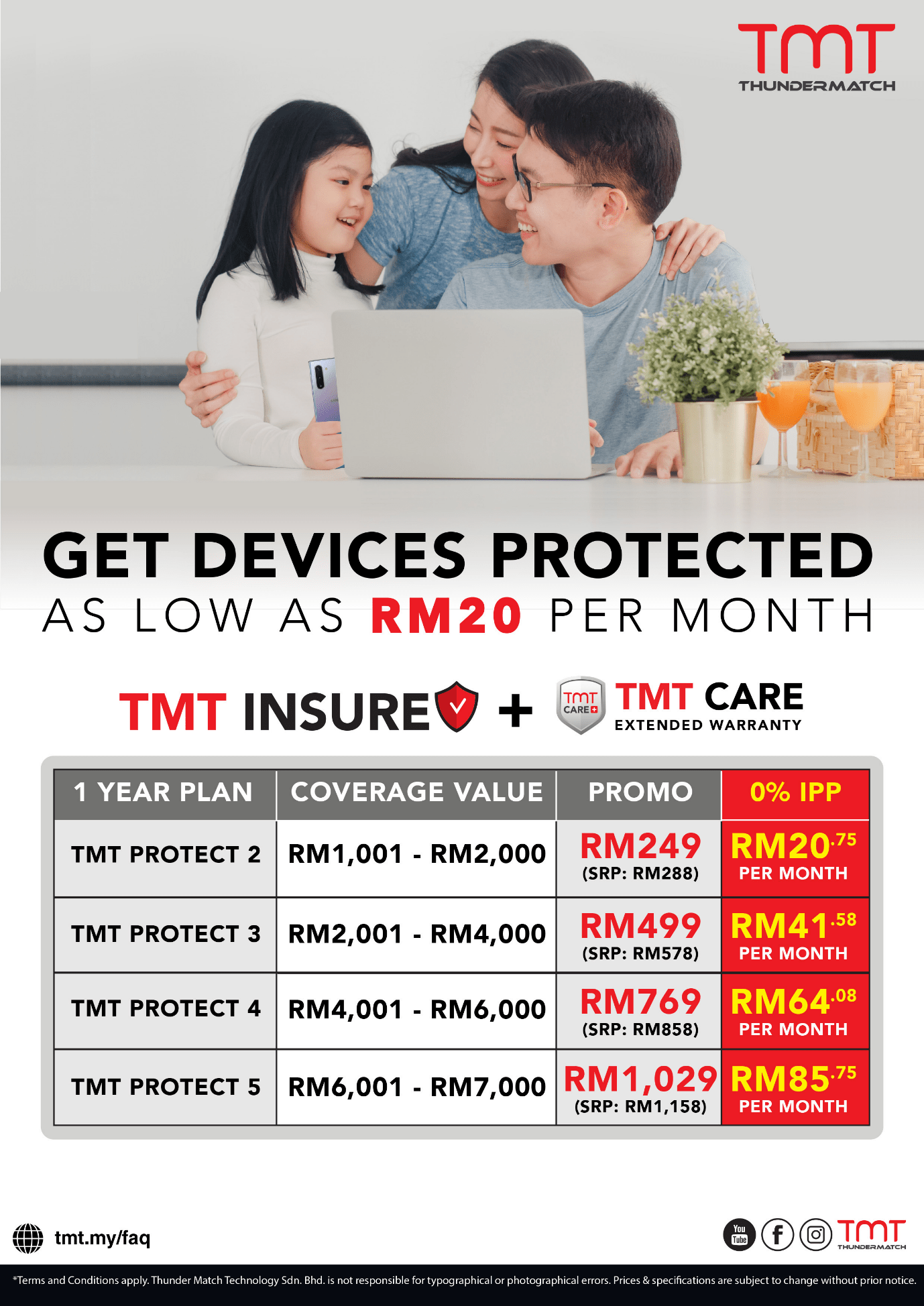 You can enjoy comprehensive retail experience in TMT without hesitation,
please inquiry with our shop assistant, and we will help to proceed further.
*Terms & Conditions applied.